We understand that a lot of clients have cooling towers that have been in operation for decades and are reaching the end of their operational life. However, sometimes the longevity must be extended to not affect the core process of the customer.
Our refurbishment services will ensure that the cooling tower will operate efficiently and achieve thermal performance as well as meet the various site safety requirements. From major overhauls involving hot water basin replacements, tower casing replacements and film fill replacement through to structural rectifications including replacement of supporting beams and structured elements.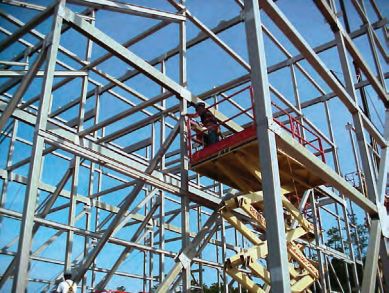 It is known that industrial cooling tower's life expectancy is between 15 and 25 years.
While some thinks that it's necessary to install a completely new system, old cooling towers can be refurbished or upgraded.
---
Refurbishment or upgrades can bring a cooling tower's components up to original factory specifications, extending the system's lifespan for another 15 to 20 years at a fraction of a cst of a new system.
---
The humid environment of a cooling tower naturally leads to the build-up of contaminants over time. This results in clogging of the heat transfer medium and corrosion of metallic components which is lowering the performance and the lifespan of the cooling tower. It is known that damaged cooling tower can be easily damaged due to maintenance activities or exposure to high winds and icing during winter.
Cooling tower refurbishment is achieved by cleaning the inside of the cooling tower and all metal parts, using sandblasting to remove corrosion. Once sandblasting is completed, an epoxy coating is applied to the metal, with a flexible epoxy stripping applied to the joints to allow flexibility and prevent leaking. Once the process is completed, the cooling tower will look and operate like new, effectively expanding lifespan of the cooling tower.
During the refurbishment, it is also often necessary to replace fill media. Inside a cooling tower, the fill is the medium used to put as much water surface area in contact with as much air as possible for the longest amount of time possible. Water is cooled as it trickles down the fill medium, thus aiding the heat transfer process.
The almost constant exposure to water with high temperatures leads to wear and tear, particularly in older cooling towers that use wood as fill media. Wood fill media can be replaced with more suitable non-clogging fill materials such as splash or trickle packs.